Platinum IP may have many products and services, but they are part of a larger umbrella that yields total business solutions for our clients. Our clients and industries we serve are as vast as the employees that are the backbone of our company. Our solutions assist call center managers daily, to make intraday staffing decisions from a single Wallboard, and weekly staffing forecasts with our intuitive Workforce Management. Our logistics dashboards offer fleet managers real-time access to truck location, weather, and traffic. We have written integrations for Five9, Hum, Salesforce, Telesynergy and Touchstar to name a few, thus automating end to end processes for our clients.
Though we have an outstanding development team we advocate for using "off the shelf solutions". We have partnered with the leading companies in their respective industries to deliver reliable cost efficient solutions without reinventing the wheel. Our partners deliver products and services that enable your business to succeed in the 24/7 environment we live in today.

| | | |
| --- | --- | --- |
| Cloud Phone System | Voicemail | Seamless Mobile Phone integration |
| UberConference | 3 Way Calling | SMS and MMS support |
| Local Area Codes for DID | Company Directory | Google G Suite integration |
| Main Line Local and/or Toll-Free | User Availability Status | Microsoft Office 365 integration |
| Video Calling | Simultaneous ring multiple devices | Platinum IP Phone system management |
| Digital Recording | Simultaneous ring multiple extensions | Platinum IP Phone system migration |
Years ago "the office" was a defined 8 am to 5 pm Monday thru Friday. Your office extension was your lifeline to your customer base, but you detached each day and headed home. Today, everything is fluid. From taking a conference call at Starbucks to closing a deal as you walk to the subway business is real-time. Your phone system should be as fluid as you are. Dialpad delivers with a complete cloud based phone system that still offers the flexibility of a physical phone or completely virtual using an app on a workstation, laptop, tablet or mobile phone. Each person has a unique local area code direct line also referred to as a DID (Direct Inward Dial) as well as department lines to ring multiple extensions. Your direct line can be call forwarded to a mobile phone or answered directly within the app on your mobile device. Company main lines with an option of local area code or toll-free numbers (800, 888, 877, 866, 855, 844) can be configured to route to a specific person or offer full auto attendant functionality allowing the customer to route themselves to the person or department of interest. Dialpad allows seamless transfer from one device to another, allowing you the freedom to answer a call on your mobile phone and then mid-conversation transfer the call to your office workstation without the need to call the person back. The Dialpad app also offers the flexibility to send and receive texts (SMS - Short Message Service and MMS - Multimedia Message Service) in addition to employee directory and current status.
Although Dialpad is a VOIP (Voice over IP) product the VOIP engine was developed by Google and provides crystal clear audio with very low bandwidth requirements. UberConference is based on this same VOIP engine and also an optional service with Dialpad. Google G Suite (formerly Google Apps for Business) and Microsoft Office 365 also integrate directly with Dialpad. Although you could call Dialpad directly, Platinum IP will manage a seamless migration from your current phone system to Dialpad. We will configure your call flows, recorded messages, main line, departments and extensions so your clients experience the customer service you strive to provide. Since Dialpad is a cloud solution there is no onsite hardware to install or maintain. The only requirement is a data connection which in some cases can even be a mobile hotspot. Cloud based phone systems are hosted in multiple data centers around the country offering another level of protection to your disaster recovery plans. Contact Platinum IP today and let us redefine the office phone system for you.
The thought of a call center can send chills down one's spine from both a management perspective and a caller's experience. Five9 coupled with our advanced Wallboards, Dashboards, Historical Reports and Workforce Management will create a call center experience that is second to none for the end customer and management. Five9 offers the most open architecture cloud call center available. Reach maximum agency efficiency with features such as Inbound , Outbound and Blended call campaigns.
Each inbound campaign is assigned a phone number, local or toll-free. This is also known as the DNIS (Dialed Number Identification Service) which allows call routing to occur. Call routing with the IVR (Interactive Voice Response) or touch tones (DTMF - Dual Tone Multi Frequency) offer options to the caller, to ensure the agent answering the call via an ACD (Automatic Call Distribution) has the proper skill set to assist the caller. During peak times call routing can also assist in managing call queues by offering the caller in the queue a queue callback or prompting the caller to leave a voicemail. Although neither are the ideal customer experience, Five9 prioritizes calls to manage accordingly. A new inbound call will always take precedence over any other call type. Then queue callbacks are processed, where the system will call the caller back as soon as an agent becomes available. Once an agent is at a "ready and voicemail" status the agent will process any voicemails left and callback as appropriate.
For clients who have inbound and outbound campaigns, Five9 offers a blended function. Throughout the day, regardless of call forecasting, there will be lulls in call volume. Rather than having the agents sit at a "ready" state waiting for non-existent call volume, the outbound campaign will connect the same agents to new potential clients for a sale or follow up on a collection notice, thus yielding a productive state to the company until the inbound call volume normalizes. If an inbound call occurs while an agent is connected to an outbound call, the agent will finish the outbound call and automatically switch over to handle the inbound call. Although blended campaigns offer tremendous productivity, they are a better fit for clients with eight (8) or more concurrent agents. Blended campaigns have one of the below campaign types to manage the outbound calling.
For outbound clients, Five9 offers four campaign types including Preview, Power, Progressive and Predictive. Each campaign type is designed for a specific call environment and the number of concurrent agents staffed. Preview campaigns are typically used when the agent needs to know as much information as possible on the prospect prior to the actual call or the number of concurrent agents is less than four (4). Power dial campaigns only dial when an agent is in a "ready" status thus reducing drop calls. In the centers that Platinum IP has configured, Power dial is used by 99% of all companies. Progressive dial campaigns are a balance between Power dial campaigns and full Predictive campaigns. Progressive campaigns increase the frequency of calls based on how long an agent is waiting, but the agent still has to be at a "ready" state. Predictive dial campaigns actually use an algorithm to "predict" when an agent will be available based on average connect rate, average call handle time, number of agents and lines. Power, Progressive and Predictive campaigns all have secondary options for the agent to line ratios and drop rates. Preview campaigns dial solely as one agent to one line ratio. Platinum IP will recommend a campaign type based on your calling goals.
Digital Recording
Five9 offers full digital recording of all calls a feature that Platinum IP highly recommends. By default, Five9 provides access to recordings for 45 days. Platinum IP developed a solution for clients who are required or prefer to maintain recordings for a longer duration while offering a fully indexed and searchable recording interface. This specific solution has saved a number of our clients from customers making erroneous claims. Our clients have the ability to playback the original recording to the customer. Contact Platinum IP and inquire about our Digital Recording Archive service for more information.
Scripting
Although Five9 is a fantastic call center solution, Platinum IP has built a number of add ons to yield a higher level of productivity from the agents starting with our Script Builder. The success of any call center rests on training and coaching. Unfortunately, it is not realistic to have a trainer or coach sit with every agent for the duration of their shift. Call scripts have long been the solution to standardize agents response and guide agents throughout the call. Platinum IP developed a scripting solution that guides the agent through the goals of the call while prompting the agent to collect key information from the contact. In addition, the scripting solution prompts the agent what to say next based on customer responses. Our script builder offers conditional page navigation based on agent selection from the drop down menus. We also support required fields before continuing to navigate the script, as well as required field types, alphanumeric or numeric only. We developed a solution to prevent incorrect mailing address with our inline address verification with Google Maps. In addition, we standardized email communication to end customers with email templates. To ensure data is spelled correctly and grammatically sound, we leveraged Grammarly a Google Chrome extension. A simple to use admin interface allows a non-technical user to create scripts, utilizing all of the above features. All of the data collected by the agent is exportable to other areas throughout your business. Contact Platinum IP today to discuss further options on call center integration and automation.
Reporting
Reporting and statistics are ultimately what defines a successful call center. Platinum IP offers a number of solutions for management to achieve their goals. From Wallboards that provide a simple Jeopardy style board with key metrics such as service level, productivity level, number of calls, number of agents, number of queue callbacks, number voicemails and number of abandons to Dashboards that chart in real-time how the day is playing out. Our goal is to equip your managers to make decisions intraday thus having a positive effect on agent productivity and service level. Our historical reports take this same focus to a whole other level by trending days, weeks and months of data with a single click.
Workforce Management
All of this data mining has lead Platinum IP to develop its crown jewel, our Workforce Management solution. By integrating directly into Five9 a call center simply needs two weeks of run time and our Workforce Management can start predicting call volume, recommend agent density and create schedules for optimal agent efficiency. In addition, our Workforce Management is controlled by a simple group of sliders that illustrate the relationship between call volume, agent density, service level, productivity level, abandons and call length. These sliders allow management to override forecast models based on known call volume drivers independent of the call center. The sliders also illustrate the level of investment needed to have a meaningful impact on areas that management deems as subpar.
Although you could call Five9 directly, Platinum IP will manage a seamless migration from your current call center to Five9. We will configure your agents, campaigns, call flows, searchable digital recordings, agent scripting, call statistics Wallboards, trending Dashboards and of course your Workforce Management. Since Five9 is a cloud solution there is no onsite hardware to install or maintain. The only requirement is a data connection. Cloud based call centers are hosted in multiple data centers around the country offering another level of protection to your disaster recovery plans. Call Platinum IP today and let us redefine a call center for you, enabling you to offer your customers the level of automation and customer service you strive for.

| | |
| --- | --- |
| Zoho CRM | Zoho Books |
| Cloud CRM | Cloud Accounting |
| Google G Suite integration | Direct bank link of transactions |
| Microsoft Office 365 Integration | Direct payment acceptance |
| Full function CRM on your mobile phone | Expense Management |
| Platinum IP CRM Migration | Inventory Management |
| Platinum IP Custom Workflow | Full function Accounting on you mobile phone |
| Platinum IP Custom Data Layout | Platinum IP Accounting Migration |
| Platinum IP Custom Reports | Platinum IP Custom Reports |
Zoho CRM may be the underdog in the CRM (Contact Relationship Management) software segment, but what Zoho CRM lacks in market share, it more than makes up for in flexibility. Platinum IP over the years has had the opportunity to interface directly with a number of CRM solutions. Although Salesforce is the market leader and we have written integrations with Salesforce for a number of clients, when it came time to choose a CRM for our internal use we choose Zoho CRM. Zoho has the most open architecture of any CRM on the market. Their product line is extremely diverse, offering a full suite of core office applications. Zoho also supports Google G Suite and Microsoft Office 365 integrations. The common theme in all of their products is flexibility. Most companies will only use a high level of process automation and workflows that can be configured through Zoho. However, the capability is waiting for you. At Platinum IP we strive to build software that is so intuitive to use, the end user should never need a manual. Zoho must agree with this philosophy, though excellent documentation is available. When we internally deployed Zoho we intentionally did not train our sales manager. Within the first week, those same non-technical sales managers were building their own workflow processes completely independent of any support staff.
We then decided to double down on Zoho by adding Zoho Books . Zoho Books is a complete stand alone accounting software that once again, what the software may lack in market share it more than delivers in ease of use and flexibility. We were able to complete our conversion from Quickbooks to Zoho Books in a few days with zero down time. Similar to Quickbooks, Zoho Books also supports direct links to banks and credit cards such as Bank of America or American Express in addition to most of the larger banking institutions for direct download of transactions. Rules can be written to auto categorize transactions. Within a week of the migration, you would have thought Platinum IP had been running on Zoho Books since its inception. Zoho created structure in our sales process without any of the salespeople, sales managers or management feeling restricted. Account receivables, payables, and banking transactions were perfectly in sync. Gone were the days where accounting had to get back to management for a Profit and Loss report. Zoho CRM and Zoho Books deliver real time reports, something we preach at Platinum IP.
Although you could call Zoho directly, Platinum IP will manage a seamless migration from your current CRM or accounting software to the Zoho family of products. We will export all of your data from your existing CRM and build custom screens to display all legacy data. Platinum IP will build automated reports so management knows the status of the sales pipeline. In addition, Platinum IP is fully equipped to manage your transition from your current accounting software to Zoho Books. We will work directly with your accounting department to ensure all direct import bank feeds are fully functional. Since Zoho CRM and Zoho Books are cloud based solutions, there is no onsite hardware to install or maintain. The only requirement is a data connection. Cloud based CRM's and accounting software are hosted in multiple data centers around the country, offering another level of protection to your disaster recovery plans. Contact Platinum IP today and let us change your whole perception of CRM's and accounting software, with Zoho CRM and Zoho Books. We will show you what your company is capable of with one fully integrated product.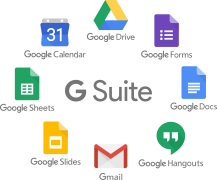 If there is one company that continues to define its relevance in our daily lives it is Google. The apps that Google has provided have become an indispensable part of our lives. From a web search performed at Google.com to Gmail, Google Maps and Google Chrome our lives run on Google. The common theme are apps that are so easy to use and packed with truly useful functions that Google has become engrained in our daily lives. Google is now looking at not only making our personal lives easier but also our company lives with Google G Suite. Google G Suite includes all the core office productivity apps that we use on a daily basis backed with an enterprise level reliability. Google G Suite offers a fully integrated office suite including Docs (Word Processing), Sheets (Spreadsheet), Slides (Presentations), Gmail, Calendar, Hangouts (Video Conferencing) and Chrome. All 100% Ad-free and 30 Gigs of Google Drive Cloud based storage for the basic package. Business packages offer unlimited storage with a minimum of five (5) users. Google G Suite also adds enterprise functionality to Chrome by standardizing Chrome extensions like Grammarly across all of your workstations (Windows and Mac).
Years ago, Platinum IP standardized on Google's product line and has incorporated many of Google's products into its own products. Though we have an outstanding development team, we advocate for using "off the shelf solutions" to deliver reliable cost efficient solutions. Google G Suite continues to deliver unmatched reliability and functionality. To sign up for Google G Suite please click here. Once your account is created Platinum IP will work with you to assist in any conversion process from legacy office suites and email. Contact Platinum IP today and let us show you how a truly integrated office suite, that is accessible from virtually any device with a data connection, can streamline your business.

The thought of T-Mobile as a business carrier may be a new concept. Years ago T-Mobile had a less than stellar rating for call reliability and data access much less speed, but times have changed and everyone loves a David and Goliath story. T-Mobile has made massive progress in their network. Numerous case studies available for voice reliability and data speeds are proof of incredible investment T-Mobile has put forth. T-Mobile not only created a superior network built for call reliability and speed, but offers all of the capability at a fantastic price point. Platinum IP standardized on T-Mobile years ago, when the main selling point was solely price. We have witnessed first hand how network speed, coverage and reliability have continued to improve.
Platinum IP also has a Logistics and Transport division which utilizes a HUM product linked to our custom developed Fleet Management screen. HUM also offers mobile hotspot service in each of our trucks. Interestingly, none of our employees use the hotspots unless they are truly in the middle of nowhere. T-Mobile network that supports all of our company phones is far superior. From the drivers in the field to our project managers in the office, our employees prefer the T-Mobile network. T-Mobile is the new urban wireless carrier champion, and with its recent Eight Billion Dollar ($8,000,000,000.00) investment in the 600 MHz spectrum, T-Mobile will be the champion in all areas. Contact Platinum IP today and let us show you how we can save you money on your wireless service. We will streamline the number porting process, phone purchases, deployment and offer a turnkey solution.